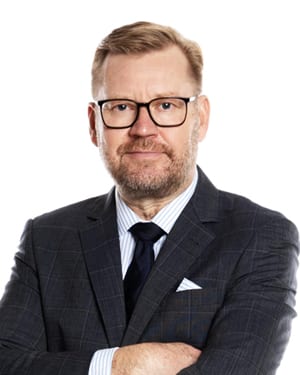 Partner, Attorney-at-Law, Licentiate of Laws
Tuomas Aho
About Tuomas
Tuomas has extensive and versatile experience as an attorney in a variety of legal fields. His core competencies are tendering, including extensive outsourcing projects and related contract negotiations. His job description also includes contract law and tort law, corporate law, and technology law, including intellectual property and data protection issues. Tuomas is also an experienced litigator in demanding legal proceedings in various instances.
Tuomas advises on legal issues related to public sector restructuring and change processes. Prior to his career as an attorney, he gained experience in a variety of public sector positions in Finland and abroad.
Tuomas likes to train and he is a trained coach.
Tuomas served as a chairman of the competition law expert group of the Finnish Bar Association from 2012 to 2016. He is a trained mediator and found on the Finnish Bar Association's conciliator list.
In addition to his professional duties, common-good activities are important to Tuomas. He is actively involved in the administration of the New Children's Hospital Project, the Finn Church Aid Foundation and the Keep the Archipelago Tidy Association.
Tuomas works in Helsinki.
Education
Attorney-at-Law, 2007
Licentiate of Laws (LL.Lic.), 2005
Ecole Nationale d´administration (ENA), 1994
Diplôme d´etudes supérieures européennes, Nancy, 1988
Master of Laws (LL.M.)
Career
Attorney-at-Law,  partner, Roihu Attorneys Ltd 2017–
Attorney-at-Law, Eversheds Attorneys Ltd, 2013–2017
Attorney-at-Law, Asianajotoimisto Bützow Oy, 2007–2013
Partner, Lexor Oy, 2004–2007
Director-General, Ministry of Industry and Trade, 1994–2004
Senior Adviser, Industry Affairs, Ministry for Foreign Affairs, Finnish OECD Delegation, 1998–2000
Memberships
Finnish Bar Association
The Association of Finnish Lawyers
FIDE, International Federation of European Law
Finnish Competition Law Association
Languages
Finnish, English, Swedish, French