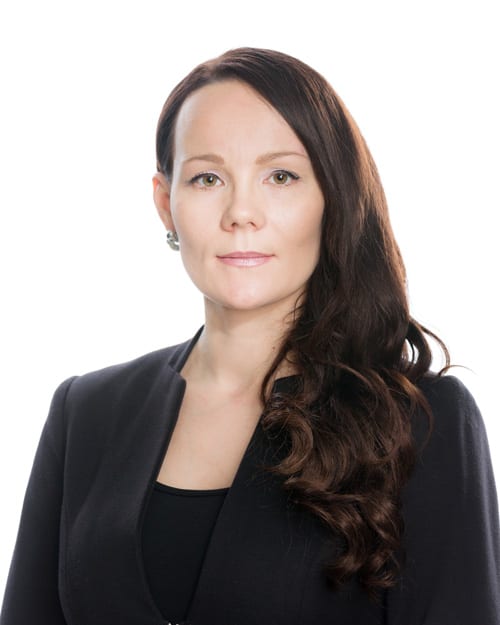 Partner, Attorney-at-law, Master of Laws with court training
Elisa Ilmoniemi
About Elisa
Elisa Ilmoniemi has approximately two decades of experience in family and inheritance law. She is the responsible partner and team leader of our law firm's family property team.
Elisa handles a wide range of assignments in the area of family law and has handled dozens of challenging child custody disputes in various courts during her career.
During her years of experience, Elisa has successfully handled divorce and legal separation cases with significant financial interest. She is a well-established advisor to our clients in the separation and division of property in divorce and legal separation proceedings, as well as in various inheritance distribution proceedings.
Elisa has extensive experience of acting as a district court appointed distributor in dissolutiond of householdd of cohabiting partners, in the distribution of matrimonial property, and as an estate administrator and distributor in large and complex death estates. During her career, she has written dozens of extensive decisions on distributions of estates, both in relation to divorces and death estates, and she is regularly actively involved in the settlement of a significant number of estates and the resolution of a significant number of disputes in relation to legal separations or divorces as an estate distributor.
Elisa has a strong track record in drafting various documents such as prenuptial agreements, continuing power of attorneys, deeds of gift, wills, deeds of estate inventories, division and distribution agreements.
With many years of experience, Elisa assists clients in proceedings at various instances in general and administrative courts. She also has specific expertise in mediation procedures and acting as an educator.
Education
Attorney-at-Law 2011
Court training, Tampere District Court (now Pirkanmaa District Court) 2007
Master of Laws, the University of Helsinki 2005
Career
Roihu Attorneys Ltd, Partner, Attorney at Law, Team Leader of Family Property Team 2016 ->
Attorney-at-Law, Asianajotoimisto Alfa Oy 2007–2016
Tampere District Court, Junior District Judge 2007
Tampere District Court, District Court Notary 2006–2007
Keskinäinen Vakuutusyhtiö Turva (Insurance Company) 2003–2005
Positions of trust
Member of the Board of the Häme Chapter of the Finnish Bar Association 2019–
Member of the Bar Association's Expert Group on Family Law 2018–2022
Member of the Board of Roihu Oy Attorneys at Law 2017–
Member of the Education Committee of the Finnish Bar Association and Chair of the Family Law Working group 2016–2022
Person responsible for education in the Häme Chapter of the Finnish Bar Association 2016–2021
Member of the Youth Committee of the Häme Chapter of the Finnish Bar Association 2016–2019