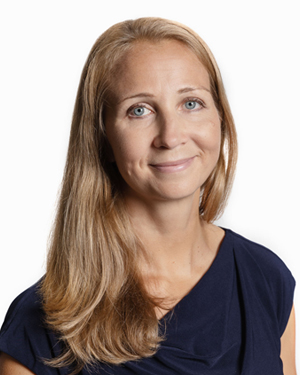 Partner, Attorney-at-Law
Maria Penttilä
About Maria
Maria Penttilä has extensive, diverse and long-term experience in the legal field. During her more than 15 years in the legal profession, Maria has gained a wealth of experience in several areas of business law, in particular employment law. During her long career as an attorney, Maria has handled not only employment law assignments, but also numerous disputes in tort, contract and corporate law, both before the General Courts and arbitration tribunals, and has assisted companies in drafting a variety of business contracts.
In the field of employment law, Maria has strong experience in a wide range of employment law challenges, including various civil and criminal proceedings, collective bargaining, termination of employment, occupational health and safety and data protection at work. Maria also regularly assists public bodies and handles assignments related to public servants' contracts. Maria actively provides training in employment law and occasionally acts as an arbitrator in employment disputes.
Maria and the entire Roihu employment law team have been recognised by Chambers and Partners, an international rating and ranking agency for law firms and lawyers.
Koulutus
Certified Board Member (CBM) 2022
Finnish Arbitration Academy, The Finland Arbitration Institute (FAI), 2017
Attorney-at-Law, 2011
Court training, 2005
Master of Laws (LL.M.), 2004
Career
Attorney-at-Law, Roihu Attorneys Ltd, 2016–
Attorney-at-Law, Specialist Counsel, Eversheds Attorneys Ltd, 2013–2016
Attorney-at-Law / lawyer Bützow Attorneys Ltd, 2005–2013
Notary, Tuusula District Court, 2004–2005
Lawyer, Bützow Attorneys Ltd, 2004
Memberships
Finnish Bar Association
The Association of Finnish Lawyers
Association of Young Lawyers
International Organization of Young Lawyers (AIJA)
Labour Law Association
European Employment Lawyer Association (EELA)
Association of Female Jurists
Positions of trust
Member, Finnish Bar Association, Labour Law Expert Team (09/2016 -, chairman 02/2020-)
Languages
Finnish, English, Swedish
"Maria Penttilä of Roihu Attorneys-at-Law is a rising employment lawyer. She wins significant recognition from the market for her work, which includes handling terminations, retirements and non-compete agreements."
"Maria Penttilä is an excellent attorney at Roihu Attorneys-at-Law. She is the mixture of all the qualities that should be present in an excellent attorney. She has a strong ability to draw reasonable and logical assumptions from limited information. I admire her great analytical skills, persuasiveness and communication skills. And most importantly, she is extremely pleasant to work with."
"Maria is great to work with, as she is always on time, always responds and always delivers top quality and within the budget. A very ethical and skilled lawyer, someone to always turn to for advice."